Traditionally, the Warli tribe has been animalistic and so their art depicts more of social life and less of deities. However, over a period of time due to acculturation they adopted many Hindu beliefs. Probably, that's why the artists must have started depicting the male deities too. This is my small attempt to paint this modest art form.
Material used
I have used Acrylic paints on Auroville Handmade Paper of 11″ x 12.7″ size. I got this handmade paper recently just before the lockdown from Auroville, which is based partly in Pondicherry and partly in Tamil Nadu. It is a universal township that aims to bring in human unity in diversity. You will see Auroville showrooms in different parts of Pondicherry and Tamilnadu, where you get all kinds of art and handicrafts. Basically, their aim is to build a self-supporting township.
Coming back to my painting 🙂
The TEN AVATARS
In this painting I have represented the ten avatars or reincarnations of Lord Vishnu – Matsya (fish), Kurma (tortoise), Varaha (boar), Narasimha (half-human, half-lion), Vamana (the dwarf brahman), Parshurama (the warrior), Rama (the prince of Ayodhya), Krishna (the cowherd), Buddha (the Enlightened One), Kalki (the horserider) is yet to appear. I won't go much into detail about the Dashavatar story, which is quite a common knowledge. However, I would like to elucidate other equally important aspects of this painting which are exceptional and very unique to this work of art.
SWASTIK
It represents 'good fortune' or 'well-being'. Did you know it is also a symbol of Lord Vishnu and the Sun? In Buddhism, it represents the auspicious footprints of Buddha and also homologous with the dharma wheel symbolising the eternal cycle. Well, Swastika is a symbol of divinity and spirituality not only in India, but also in varied cultures across the globe. Until the counter-clockwise Swastika was made infamous by the most hated man on the earth.
SUN and MOON
Warli art is quite rudimentary and uses basic shapes such as triangles, circles, and squares. These shapes come from their simple understanding of nature. Circles are derived from the Sun and the Moon. For primeval people, the Sun and the moon were direct and visible aspects of the space outside their world. The Vedas also contain descriptions that symbolise the sun as a source of all life, immortal, and permanent, whereas the moon is represented as recurrence and rebirth. In many cultures the sun and moon also represent masculine and feminine energy, respectively creating balance in the world. This idea is quite similar to the symbolism of Ardhanari Nateshwar or Chi (Yin and Yang) philosophy.
PENTAGON
In traditional Warli art, you seldom see pentagons. However, the reason for me including it in my painting is its significance in Hinduism. A Pentagon has five sides, the ancient numerical swastika has number 5 at the centre, Panchamrut has a mixture of five elements, there are five elements in nature called as Panchamahabhuta, five Pandavas were at the centre of Mahabharata war, Draupadi had five children, Krishna had asked Duryodhana for five villages, Yayati had five sons, Bhishma's Chariot flag also had five stars! Interesting, isn't it?
The divine number – 108
Each interior angle created by the Pentagon is 108 degrees. No need to mention how significant the number 108 is!
You see the rosaries often have 108 beads. Why? The rosary represents the ecliptic path of the sun and moon. The Yogis divided this ecliptic path into 27 equal parts called Nakshatras and each of them into 4 equal Padas or directions. Thus, resulting in 27 x 4 = 108, covering the entire galaxy! Another amazing fact is that our ancient yogis also knew that the distance between the Sun and Earth is exactly 108 times the Sun's diameter, the diameter of the Sun is 108 times of the earth and the distance between earth and moon is 108 times the diameter of the moon!
You know, there are 108 sacred sites or Pithas, throughout India? According to the Gaudiya Vaishnavism, there were 108 Gopikas (cowherd girls) in Krishna's Vrindavan! The list of the significance of this divine number seems endless.
The DIVINE PROPORTION
What more? The Pentagon is also closely associated with the Golden Ratio/Golden Section.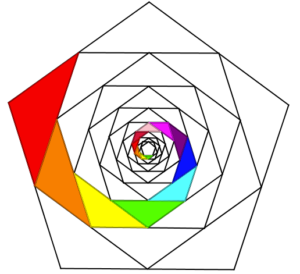 It is considered as a Divine Proportion as it manifests itself across the universe! Why universe, let's talk about our Earth. You find this divine proportion in every element of nature, plants, leaves, flower petals, shells… and even humans! For many hundreds of years, this well-known Fibonacci sequence has fascinated scientists, mathematicians, and artists too.
Last but not the least, according to me, this divine proportion also substantiates the beautiful shlok in Bhagawad Geeta (10.20):
aham ātmā guḍākeśha sarva-bhūtāśhaya-sthitaḥ
aham ādiśh cha madhyaṁ cha bhūtānām anta eva cha
Where Lord Krishna said to Arjun, I reside in the heart of all living beings. I am the beginning, middle, and end of all beings. Meaning, he is all-pervading, omniscient, and omnipresent having unlimited consciousness!
The Dashavatar – Warli painting is up for sale at Rs. 15,000* (without frame). If interested, please email me to harshada.vispute@gmail.com
*courier charges apply for domestic and international couriers.