I am fascinated! No, seriously. Rather, I feel inspired to see paintings of our homegrown artists sold worth crores! A dream of every artist, isn't it? But, honestly, finding true value in art is seldom easy-breezy. I am always curious to dig out and find the impetus of the art sold for hefty bucks. How intricate it is? What made the artist paint this? What were his/her thoughts behind this art piece? Did their experiences or beliefs mold these thoughts? How old is the artwork? Well, these and many such questions help determine the actual worth of the work in the art market.
Here is the list of ten most valuable painters of India, their costly paintings, and intriguing stories behind them.
10. Raja Ravi Varma – The Travancore Maharaja welcoming British administrators
Medium: Oil on canvas (41.5″x 57″)
Sold: 2019 by Saffronart
Price: Rs. 16.1 Cr
Remember, Nirav Modi? Yes, the painting was the priciest possession of his collection. IT department seized this valuable artwork and auctioned it through Mumbai-based Saffronart in 2019.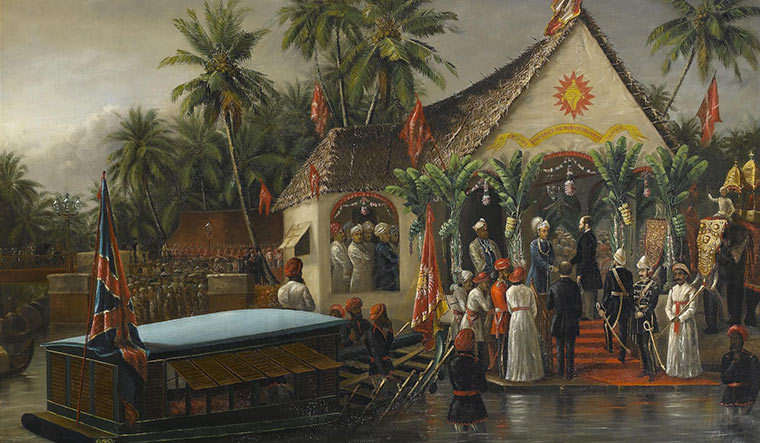 The painting brings alive the historic event happened in 1880, where the Maharaja of Travancore, and his younger brother is seen welcoming Richard Temple-Grenville, and Chandos, the third Duke of Buckingham, and the Governor-General of Madras. Raja Ravi Varma was invited to capture this notable event, likely to have happened at the Vallakadavu Boathouse, according to the Saffronart website. Built-in 1820s, 'Boattupura', as called by the locals, was a prime waterway hub that allowed travel and movement of cargo in the Travancore era.
This masterpiece was gifted to Duke, and after his death entrusted to his eldest daughter, Baroness Kinloss. In 1920, the painting graced a part of Castle House, Buckingham, until 1974, when a private collector obtained it.
Well, Raja Ravi Varma is one of the master artists to occupy two positions in this list of costly paintings! Who are the other artists? Wait, till you read.
9. S. H. Raza – Saurashtra, 1983
Medium: Acrylic on Canvas (78.7″ x 78.7″)
Sold: 2010 by Christies
Price: Rs.16.5 Cr
This masterpiece suggests a blend of his two peculiar styles of Sayed Haider Raza's paintings – one, his gestural strokes, and second, his Abstractionism. The virtual frame and format of his work will remind you of the 17th century Rajasthan's miniature paintings that uses whole spectrum of warm colours. The Christies auctioned this valuable painting in 2010 for whopping a $3.48 million, i.e. approximately 16.5 Crore rupees!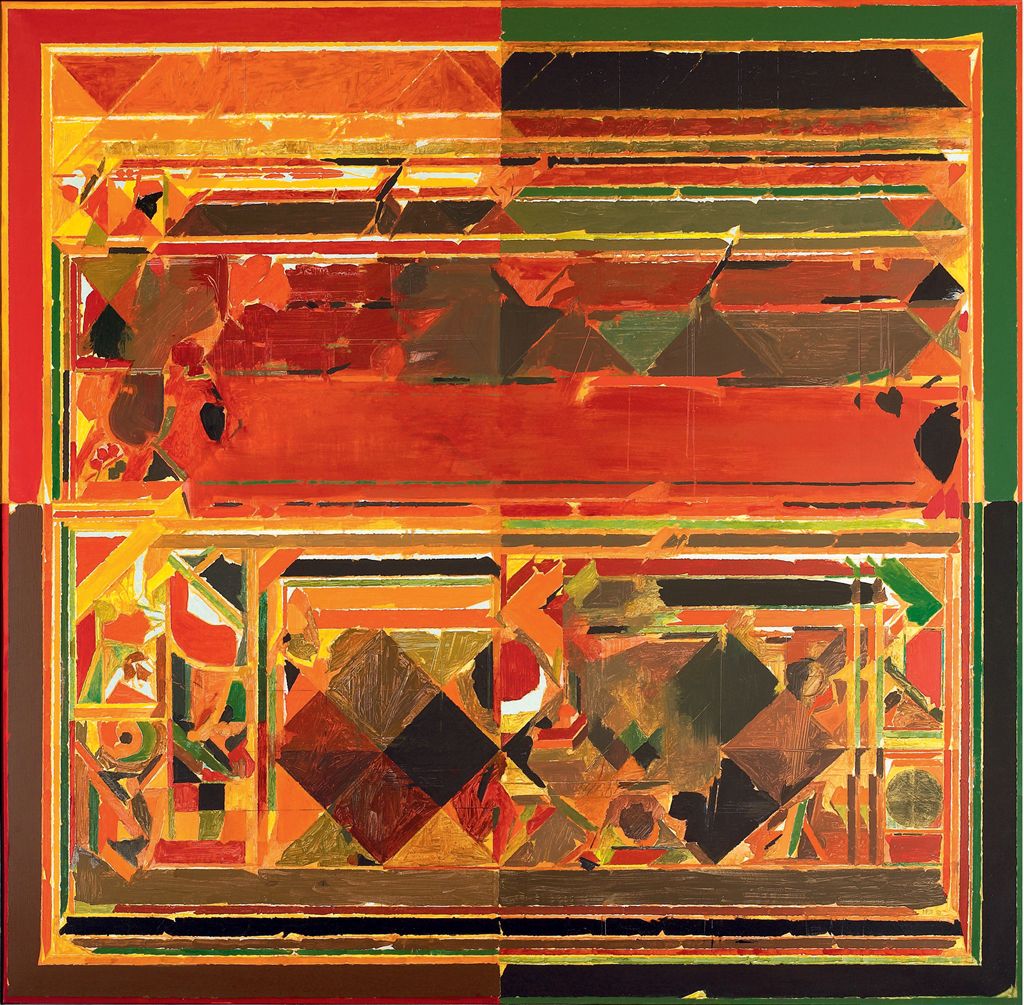 S. H. Raza is one of India's most celebrated artists whose contribution gave a unique modern identity for Indian art. He was one of the prestigious founding members of the Bombay Progressive Artists' group and was also conferred with Padma Bhushan, Padma Vibhushan, Padma Shri, and many other accolades to his credit.
8. Amrita Sher-Gil – Self-Portrait, 1933
Medium: Oil on canvas (18″ x 13″)
Sale: 2015
Price: Rs. 18.28 Cr
There is an unknown tale of four-minute stomach-churning silence during the auction of this rare painting. Yes, not a single person bid for it in the first four minutes! The reserve price for this work was between 7.5 Cr to 11 Cr and many patrons had said to the auctioneer that it was too aggressive. However, at the fourth minute, somebody started bidding and the Sotheby's auction room was flooded with bids.
Amrita Sher-Gil was a Hungarian-Indian artist who painted this masterpiece at age 19! She is one of India's most important modernist painters. With regard to her artistic and aesthetic value, in 1976, India declared her a national treasure! The exportation of her paintings outside India was also prohibited.
7. Akbar Padamsee: 'Greek Landscape', 1960
Medium: Plastic emulsion on canvas (52″ x 144″)
Sale: 2016 by Saffronart
Price: Rs. 19.9 Cr
Grey is without prejudice. It does not discriminate between object and space."
– Akbar Padamsee
Did you know, Akbar Padamsee had his first exhibition not in India, but in France at the Galerie Saint Placide in 1952!? Along with S. H. Raza, he had set sail for Paris a year prior to the exhibition and had got a French government scholarship. He was a well-read man, fascinated by Eastern and Western philosophies. His work reflects his command over form, space and colour. Well, he came back from Paris to India in 1959, and worked from his home in Juhu. Here he created a small lot of "Grey Works". In the subsequent year, he exhibited solo at the Jehangir Art Gallery, Mumbai and received appreciating reviews from the top art critics for his revolutionary work. So, the "Greek Landscape" is one of those "Grey Works" sold by Saffronart in 2016.
6. Tyeb Mehta – Durga Mahishasura Mardini, 1993
Medium: Acrylic on canvas (58.8″ x 41″)
Sale: 2018 by Sotheby's
Price: Rs. 20.4 Cr
The story of this painting goes way back in 1992, when the right-wing groups in Mumbai untethered a series of brutal riots across the city that greatly affected Tyeb Mehta. The resultant was this painting, one of the most breathtaking works he made during this time. After all, our circumstances and experiences do a great deal in creating the artworks as the way they are. Surrounded with rising tension in the metropolitan city, this masterpiece symbolized ray of hope in past and continues to inspire us even today.
Initially a film editor, Tyeb Mehta's inclination towards painting led his way to the Sir J.J. School of Art, Mumbai and graduating in 1952. Part of the Bombay Progressive Artists' Group, Mehta was the first post-colonial generation of Indian artists.
In this painting, he used poignant imagery and an electrified palette that resonates well with that period in time. You see, the Goddess Durga and Mahisasura engaged in combat, oscillate between figuration and abstraction.
Well, the list does not end here. Stay tuned to find out the most expensive Indian painting of all time which sold for whopping 29.3 Crore rupees!
Which is your favourite painting among these? Please comment below.