How would it feel to be born in the family of famous artists, writers, and painters?
That's freaking awesome, you say? But, not really.
If we could just ask Sunayani Devi, an Indian painter, (18 June 1875 – 23 February 1962) born in Bengal's most well-known aristocratic Tagore family, how it felt like to be part of the family that led the literary and artistic renaissance!
Not always the family name helps. Especially, during the time when patriarchal mores dictated women to be confined within domesticity.
It didn't help Sunayani Devi either. Women artists during that era were hardly recognized, in fact, conveniently forgotten.
Can you believe this? She didn't even exist on Wikipedia until 2018?! That was only after the Art+ Feminism campaign that she was duly credited.
Well, it's her birthday month! What else could be a better way to remember this inspiring woman, who after facing all odds managed to inscribe her name in the Indian art history in golden letters.
Stay glued. I am going to share an interesting secret painting technique and 8 important lessons I learned from the First Indian Woman Artist.
But before that let's find out more about this inspiring lady.
The First Indian Woman Artist to sign paintings!
Sounds weird? It's common for women artists to sign their paintings. Alas, it was not that easy at that time.
Dr. Stella Kramrisch acknowledge her to be the first Indian woman modern artist who signed her paintings. She commented
Her pictures have no design for they have grown. Unbroken and unwavering is the flow of the lines, for no hesitation deflects them from the course they take as they wellforth out of her very nature; they surge in grave tranquillity and clasp groups and figures; they are forceful and languid, self-asserting and full of surrender; their curvature is the same which the passing breeze gives to the heavy ears of corn; all the warmth and light which surrounds ripe fields shines forth from these lines."

– Dr. Stella Kramsich on Sunayani Devi's art
Many believe she was competent enough to create her own school of art.
Gaining public recognition, her work was a part of the Society of Oriental Art exhibition held in Calcutta in 1922, along with the works of Kandinsky, Klee, and other Bauhaus artists.
Self-made Artist
Married at the tender age of 12 to Rajanimohan Roy (grandson of Raja Ram Mohan Roy). She started painting only in her thirties on her husband's encouraging words.
She was a self-made artist who was often found taking a sneak peek into the studios of her brothers experimenting with different art forms and wash techniques.
However, it is fascinating to know that none of her work is influenced by the 'Bengal School of art' started by her brother Abanindranath Tagore.
She developed her own style! And see, her art is so significant that she very well contributed to the modern art in India.
Following a strict regimen
Discipline bridges the gap between goals and success.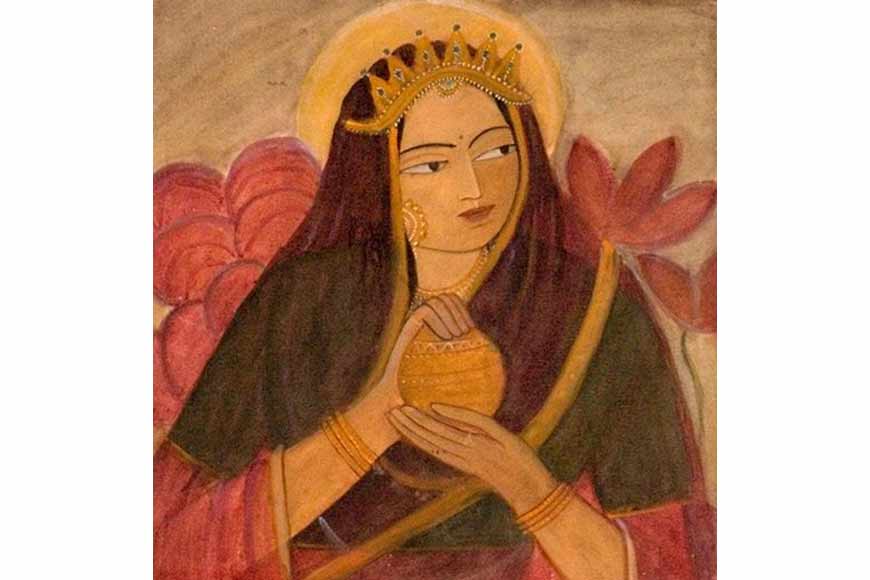 She always maintained a strict regimen, starting her day at eight in the morning to twelve, and then from afternoon three to four-thirty.
Varied inspirations
She was the first Indian artist to visit Patachitra village to find her inspiration. Her two main inspirations were village clay dolls adorning urban homes and Kalighat pats.
Most of her works reflect the Pata art – the elongated half-closed eyes portraying the divine beings, and long eyebrows with fish shaped eyes for royalty. These finer details made her work unconventional and contributed significantly to the art world.
As a child she was quite fascinated by devotional prints of Raja Ravi Varma hung in her aunt's room.
Later, she was inspired by the Rajput miniatures and Abanindranath's water colours. Some historians say her work was influenced by 'hieratic quality' of ancient Jain paintings.
Her innerworld
Most of my paintings, I have seen in dreams – After seeing them I have put them down.

– Sunayani Devi to her Grandson
If you see, most of her works are stereotypical to the women of that era.
She reflected the Indian woman's 'domesticity' on her canvas – their pensive moods and their solitude.
Just look at her "Radha", "The Votress", "Village Maid", or "Mother", how aptly she represented the life of the Indian woman. Probably, it is for the first time that Indian painting were seen through a woman's perspective.
The creative intelligence guided her
She didn't plan her paintings. Yes, she just allowed the creative intelligence do its work – flowing through her.
The Art Historia Stella Kramrisch says that Sunayani's paintings grew organically, gushing out of her very nature.
She didn't care how her art will be judged, or how much it is worth. This is quite evident when you see her artworks painted on both sides of the paper.
When she tried painting consciously she often lost her delicate touch. For Kramrisch, this was not her limitation but her strength – a form of innocent grandeur.
Influenced famous artist Jamini Roy
She is credited to bring folk art to the modern Indian painting scenario. Well, that's how you see Sunayani Devi's art influence in the famous artist Jamini Roy's work!
Art historians say that the style developed by Roy and Sunayani Devi have lot of similarities with the intellectual outlook of European modernists, like Gauguin or Picasso.
But, they are yet to determine if they were really influenced by these international art movements in any way.
Time for her secret painting technique
As promised here's her unique painting technique described by Partha Mitter in her book:
"Sunayani first drew a red or black outline with brush on paper, which was then filled in with watercolours prepared by herself and applied with a thin paintbrush. She then dipped the sheet into a circular drum of water allowing the colours to be absorbed by the paper. The wash was used as a continuous process through which the form emerged without taking recourse to drawing. She firmed up the outline with the brush once the hazy shapes started emerging out of the washes, the washes themselves investing her works with a delicate hue."

P. Mitter, The Triumph of Modernism, India's Artists and the Avant-garde, 1922-1947, New Delhi, 2007, p. 40
She further adds
"Her naïve work was singled out as a continuation of the 'simple' art of the Indian village, a contemporary expression of authentic India. The modernist discourse of primitive simplicity and the nationalist discourse of cultural authenticity come together in the image of Sunayani Devi as a nationalist artist."

( P. Mitter, The Triumph of Modernism, India's Artists and the Avant-garde, 1922-1947, New Delhi, 2007 , p. 43)
Departing the Art World
They say in 1935, her loyal admirers curated an exhibition at her home, probably last public exposure to her artworks.
In 1940s, her family went through a series of adversities. She completely lost vigour when her husband passed away, departing her from the art world she served for 15 years. But, her art lives on to inspire artists like us.
My Key take aways
Stay glued to your passion despite all odds and emerge with flying colors.
At whatever point your art career is today, it is never too late to create that immortal masterpiece.
Allow creative intelligence to flow through you.
Be inquisitive and always on toes to learn anything new
Don't worry about your art being judged or how much it's worth. Stay focused and keep improving.
Trust yourself and take a leap of faith. You never know you might end up creating a history.
Paint what you want others to see. Not the other way round.
It really doesn't matter where you come from. Where you lead yourself, matters.
Source:
https://indianculture.gov.in/node/2686647
https://www.theheritagelab.in/sunayani-devi/
https://prinseps.com/research/sunayani-devi-artist-work-style/
https://en.wikipedia.org/wiki/Sunayani_Devi
https://www.theheritagelab.in/artandfeminism-india/